Investing to "smartize" the e-commerce system is the optimal way for businesses to survive in Industry 4.0, also the only way to make a difference, to attract customers. However, in fact, most Vietnamese e-commerce sites still follow the same pattern …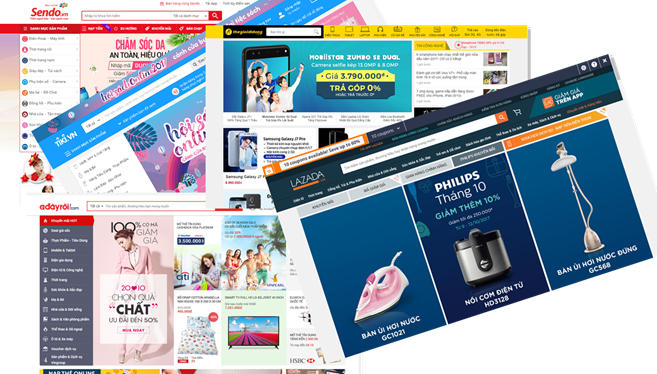 Some popular Vietnamese e-commerce sites.
The fourth industrial revolution (Industry 4.0) currently exists in Vietnam. Statistics of the Department of Information Security (Ministry of Information and Communications) show that Vietnam has nearly 50 million Internet users (reaching the rate of over 53% of the population). Also according to this unit, in the near future the number of Internet users will be 80-90% of the population.
This is a great opportunity for the e-commerce business to develop, but it also creates fierce competition between units and individuals that are implementing e-commerce activities.
Most e-commerce sites in Vietnam follow a common pattern: Accessing a website listing goods, choosing the right products, ordering, and making payments (choose online payment method or paid on delivery). The operators of this e-commerce site will then conduct a check of the order and contact the shipping carrier to send the goods to the customer.
E-commerce sites want to have more customers, forced to compete by lowering product prices, investing in advertising, increasing quality and choosing the origin of goods, providing services, warranty services, and services. customer care, purchasing consulting service. As a result of this competition, corporate profits decrease.
In particular, the current e-commerce sites also face with challenges from technology such as access speed, Internet bandwidth, information security and cyber attacks.
In addition, non-technological difficulties such as customer complaints about reliability, online buying and selling not enough confidence about products, slow delivery times, incorrect goods as posted quality is also a problem. outstanding problem.
Industrial Revolution 4.0 creates a convenient infrastructure with an online customer base of billions of users, this number will increase in the future. The Internet of Things (IoT) era begins.
Industrial infrastructure 4.0 not only has IoT, but also knowledge database, artificial intelligence, real-time interaction.
The investment to "smartize" the e-commerce system of the business is the optimal way to survive and develop in parallel with the 4.0 infrastructure, fair competition, is also the only way. For an enterprise to highlight its e-commerce system, to make a difference, to attract customers to maximize profits. An e-commerce system wants to develop synchronously with its infrastructure. 4.0 must take advantage of this power and it will have to be "smarter" in the sense of "living" and in response to human interactions like humans with each other.
Smart e-commerce systems need smart platforms, smart services, knowledge base systems, smart connections, smart payments and smart profit sharing.
With these features, the smart e-commerce system will be able to flexibly respond to different platforms, smarter services such as knowledge-based intelligent consulting, and automatic connection. and smarter information selection with linked warehouses, with virtual stores using 3D technology and virtual reality so that customers can view and test-run products before deciding to buy.
Source: Pham Quang Vinh (Head of Technology Market Development – Department of Market Development and Science and Technology Enterprise (Ministry of Science and Technology)) / Viettimes.